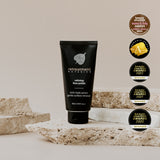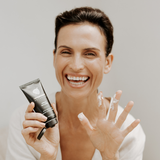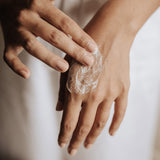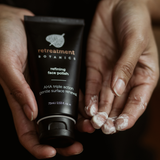 Refining Face Polish
Exfoliate, brighten, soften and hydrate while drawing out excess oil, dirt and pore-clogging impurities - leaving you with a radiantly clear complexion and silky smooth skin. Our triple-action facial exfoliant is designed to refine and polish the skin without drying, stripping or irritation.
Gently exfoliates, refines and polishes while protecting the skin's natural barrier

Dissolves surface build-up in pores, and clears away impurities and dirt

Reduces visibility of wrinkles and pigmentation

Hydrates and locks in skin moisture

Promotes radiance and luminosity

Soothes and calms sensitive skin
SKIN TYPE: Normal, dry, combination, mature and sensitive skin.
TIP: Use the Organic Cotton Muslin Cloth to remove your cleanser for a deeper, gently exfoliating finish. 
Free from
Palm Oil Derivatives • Phthalates • BPA • Mineral Oil • Silicone • Synthetic Parabens • PEGS (polyethylene glycols) • Synthetic Fragrance • Petrochemicals • Artificial colours • Nanoparticals

Palm-oil free

Cruelty free & vegan

Clean & active formula

Australian made
A unique triple-action formula with AHA fruit acids to dissolve surface build-up that makes skin appear dull and lacklustre, kaolin clay to draw out impurities and excess oil, and jojoba beads to refine and smooth your skin without harshness. 
Our gentle Refining Face Polish is an ideal facial polish for most skin types, carefully formulated with gentle natural ingredients to brighten, clear and refine the skin - all without stripping away natural oils, disrupting pH balance or causing irritation, even on sensitive skin.
A synergistic blend of high-performing Australian botanicals is harnessed and preserved in their purest form - within the cell matrix - to deliver stable, nutrient-rich actives directly to your skin.
By smoothing and brightening the skin, our Refining Face Polish provides an even 'canvas' for makeup application - which will look more natural and luminous - as well as helping your daily skincare products to penetrate more effectively.
What is a polish? Does it replace my exfoliator?
Polish = exfoliator. The Refining Face Polish is a triple action formula, so it will gently dissolve surface build-up, remove excess dirt and oil, and exfoliate.
I'm scared to use an exfoliant on my skin because my skin has reacted in the past!
Unfortunately, not all face exfoliants are created with sensitivity in mind. Thankfully, we ensured to formulate one that would be suitable for sensitive skin… In fact, we have many women with perioral dermatitis, rosacea and sensitive skin fall in love with our Refining Face Polish, because it exfoliates while maintaining the skin's natural pH levels and it's super gentle.
Is this product safe when pregnant & breastfeeding?
Yes! In fact, our entire range is loved by pregnant and breastfeeding women. However, if you do have any concerns, we suggest consulting further with your medical professional as every individual is unique.
When do I apply my Refining Face Polish?
We recommend applying Refining Face Polish 1-2 times per week (AM or PM). Visit our layering guide to see when, how often and which order to apply your product/s.
Bioactive ingredients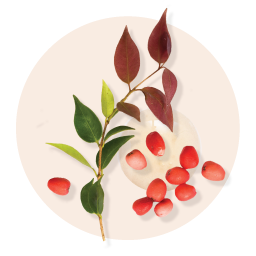 Lilly Pilly
Combats visible damage from sun exposure, improves skin hydration and contains potent anti-inflammatory properties.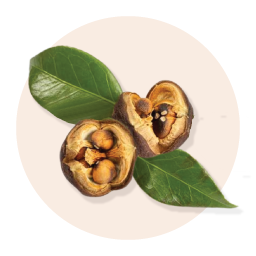 Camellia Seed
Assists with skin repair, soothes sensitive skin, and is renowned for improving skin health. Deeply hydrates and locks in skin moisture.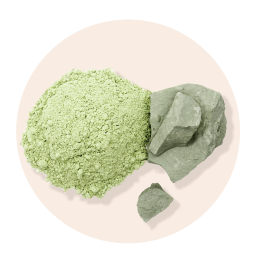 Kaolin Clay
Draws out impurities and excess oils, helps to soothe skin irritation, and exfoliates gently enough for use on sensitive skin.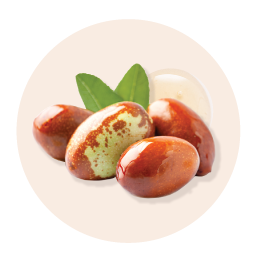 Jojoba Beads
Soft, round physical exfoliating beads work to maintain your skin's pH levels and prevent stripping of the natural skin oils, while deeply exfoliating the surface.
Full ingredients list
Aloe barbadensis (Aloe Vera) Leaf Juice, Jojoba Esters, Glycerin (Plant-derived), Macadamia ternifolia (Macadamia) Nut Oil, C13-15 Alkane (Plant-derived Squalane), Behenyl Alcohol, Kaolin, Aqua (Purified water), Vaccinium Myrtillus Fruit/Leaf Extract, Saccharum officinarum (Sugar Cane) Extract, Citrus aurantium dulcis (Orange) Fruit Extract, Citrus limon (Lemon) Fruit Extract, Acer saccharum (Sugar Maple) Extract, Polyglyceryl-3 Cocoate, Syzygium luehmannii (Lilli Pilli/Riberry) Fruit Extract, Simmondsia chinensis (Jojoba) Seed Oil, Tocopherol (Vitamin E), Rosa canina (Rosehip) Oil, Cocos nucifera (Coconut) Oil, Camellia oleifera (Camellia) Seed Oil, Rosa damascena (Rose) Oil, Citrus aurantium bergamia (Bergamot) Fruit Oil, Citrus aurantium dulcis (Orange) Peel Oil, Citrus nobilis (Mandarin) Peel Oil, Citrus paradisi (Grapefruit) Peel Oil, Butyrospermum parkii (Shea) Butter, Theobroma cacao (Cocoa) Seed Butter, Glyceryl Stearate, Carrageenan, Xanthan Gum, Potassium Hydroxide, Dehydroacetic Acid, Benzyl Alcohol. Naturally occurring in essential oils: Linalool, Limonene
Phyto actives

A phyto-active is the active nutrient within the plant. It is essentially the molecular "gold" in an ingredient, delivering an abundance of plant-powered skin regenerating benefits.
Oleic acid
Penetrates the skin and locks in m...
Penetrates the skin and locks in moisture for deep hydration, supports skin repair and soothes sensitive skin, including skin conditions such as rosacea.
Phloroglucinol and derivatives
Diminishes visible damage from sun...
Diminishes visible damage from sun exposure, improves skin hydration, protects skin barrier, and provides antioxidant and anti-inflammatory effects.
Phenolics
Replaces and detoxifies dead cells...
Replaces and detoxifies dead cells to reverse signs of ageing, helps to stimulate collagen and elastin production.
Catechin
Protects against damaging free rad...
Protects against damaging free radicals, supports collagen production to visibly reduce appearance of fine lines and wrinkles, and intensifies the antioxidant activity of vitamin C for improved results.
Linoleic acid
Promotes healthy skin cell activit...
Promotes healthy skin cell activity, contains anti-inflammatory properties and helps to maintain a healthy skin barrier.
Extraction process
We harness a unique extraction process where plant molecules are extracted in a way that mimics the natural biomatrix of the cell, this maintains the whole entourage of phyto-actives, in their synergistic relationships as they exist in nature. As a result of this process the ingredients are delivered in a stable, active & potent form.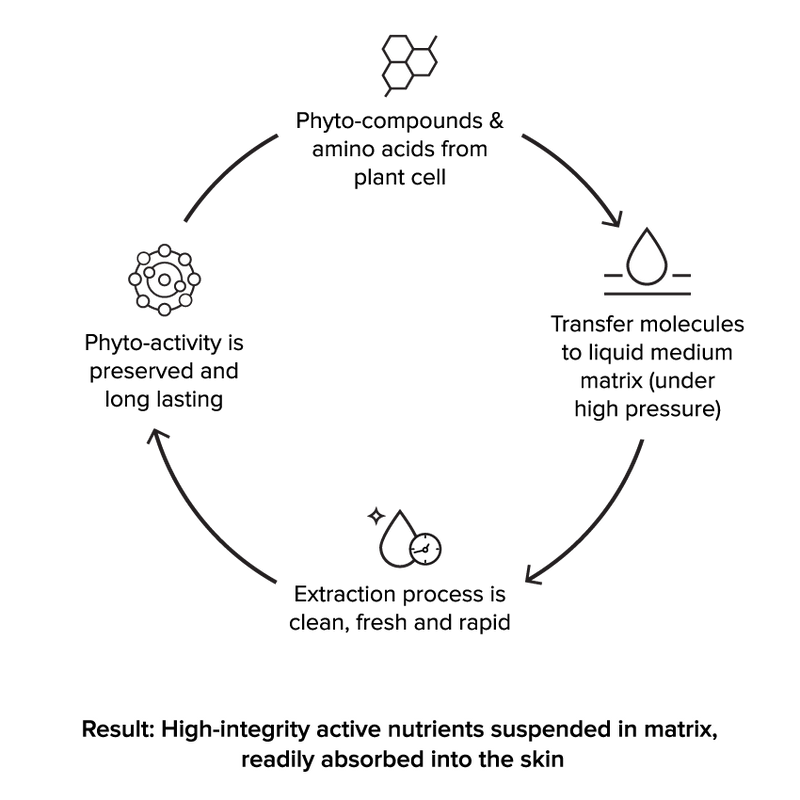 WHEN TO USE

VIEW MORE
View full skincare layering guide here.
Global award winner

View awards
Best Exfoliator - Beauty Shortlist Awards 2021
Editor's Choice + Silver - Clean & Conscious Awards 2021
Editor's Choice - Beauty Shortlist Awards 2022
Editor's Choice - Beauty Shortlist Awards 2020
Editor's Choice - Mama & Baby Beauty Shortlist Awards 2019
Editor's Choice - Mama & Baby Beauty Shortlist Awards 2020
"I really like this face polish. It's gentle but gets rid of any dead skin and gives my skin a glow and smoothness."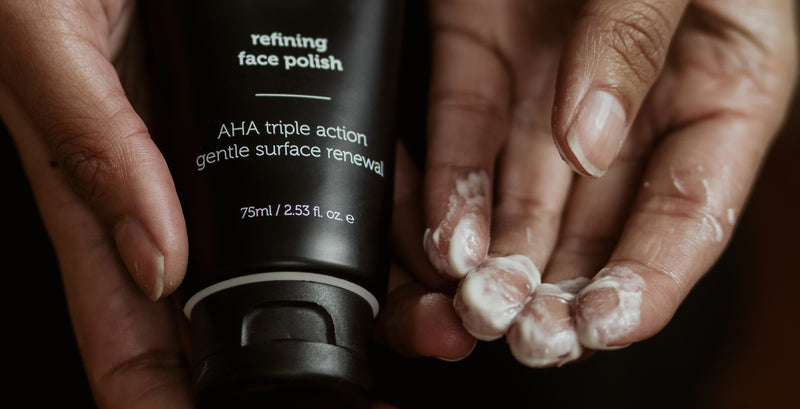 how to use

the ritual
Gently massage a small amount of Refining Face Polish into your skin using circular motions. Allow the natural clays and fruit acids to penetrate into your skin for 2-3 minutes - or leave for 5-10 minutes for a deeper exfoliation. Rinse with warm water.
To keep skin radiant and silky smooth, exfoliate with your Refining Face Polish 1-2 times per week.
See layering guide
As seen in
"Combining pure ingredients with high-tech science, this is a results-driven line. Retreatment Botanics has taken a step further by removing palm oil from their ingredients list and is certified by the Orangutan Alliance."
"The range is beautiful, put simply, offering a range of gentle yet effective cleansers, serums, moisturisers, eye creams and skincare tools harking from ancient traditions."
"With efficacy at the heart of the brand, the Managing Director harnesses the power of native botanicals, which are among the hardiest plants on the planet. And they work wonders for our skin."
Soft smooth skin
This product is so gentle that it makes my skin feel clean and smooth every time I use it. I love to exfoliate twice a week to refresh my skin and this product satisfies every single time
Excellent
Gentle enough to use every day
Soft pearly skin
Beautiful! Has made a big difference to my skin and also very gentle yet I get results!
I have been using all the products for nearly a year and just love all of them
It's a Yes from me
Could not be more pleased with this product - seems to have worked already, feeling brighter. I also love the ritual and encouragement to do self care. Having a recent bereavement, these little moments are actually quite powerful and often all I can fit in. Thx Retreatment.
supercharge your skin ritual