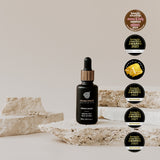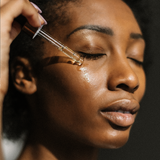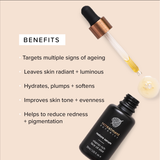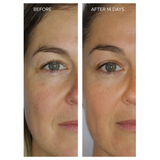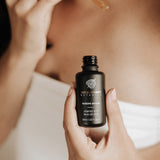 Restore Serum
Rich in powerful phyto-actives to instantly revitalise, diminish fine lines and wrinkles, and restores a dewy glow. Enrich, rejuvenate, and nourish deeply with the transformative power of active Australian botanicals like native Sandalwood seed and wild Rosella flower extract. Our luxurious Restore Serum leaves skin replenished, hydrated, and glowing with youthful vitality.

Diminishes fine lines & wrinkles

Hydrates, plumps & softens

Supports skin cell renewal


Reduces redness & soothes

Promotes radiance and luminosity
SKIN TYPE: Normal, dry, combination, mature and sensitive skin.
Free from
Palm Oil Derivatives • Phthalates • BPA • Mineral Oil • Silicone • Synthetic Parabens • PEGS (polyethylene glycols) • Synthetic Fragrance • Petrochemicals • Artificial colours • Nanoparticals

Palm-oil free

Cruelty free & vegan

Clean & active formula

Australian made
Harnessing the transformative power of active Australian botanicals like native Sandalwood seed and wild Rosella flower extract, our luxurious Restore Serum leaves skin replenished, hydrated, and glowing with youthful vitality.
Our deeply nurturing Restore Serum is rich in naturally-derived phytoactives and antioxidants, giving rise to a potent formula that restores skin health at the cellular level. 
A synergistic blend of high-performing Australian botanicals are harnessed and preserved in their purest form - within the cell matrix - to deliver stable, nutrient-rich actives directly to your skin.
Restore Serum targets multiple skin concerns, including fine lines and wrinkles, dehydration and dullness, and uneven skin tone, working rapidly to support the skin barrier and promote instant radiance. 
Firming, hydrating and softening, Restore Serum revitalises your complexion, leaving you with radiant skin that glows with the bright vitality of youth.
Can I use Restore Serum if I have oily skin?
We love this question! Short answer, yes - oily skin NEEDS oil. Oily skin is often dehydrated, so the skin produces an excess of sebum (the skin's natural oil) to compensate for the lack of hydration. Applying an oil based product to your skin will help balance out your skin's natural oil levels. It's important for us to note that not all face oils are going to be perfect for oily skin - the botanical ingredients in our Restore Serum contain nourishing yet lightweight oils that mimic the skin's natural oils, so your skin is able to recognise and absorb them easily to regulate.
I have such dry skin but I'm yet to find a face oil that actually soaks into the skin, they all sit on the top, am I doing something wrong?
We aren't surprised that you have trouble finding a serum that works for your dry skin, as it's extremely hard to find an oil serum that soaks in deeply and actually hydrates your thirsty, dry skin! Our Restore Serum is full of vitamins, omegas and natural ingredients and is a saviour for dry skin as it soaks in beautifully and replenishes your skin's natural oils. Also ensure you're gently exfoliating your skin 1-2 times per week to remove the dead cells from the skin's surface, which will allow your skincare products to penetrate deep into the skin.
What's the difference between Restore Serum & Kakadu Brightening Serum?
Restore Serum is our nourishing oil elixir that's packed with over 15 nutrient dense plant oils, delivering an abundance of vitamins and antioxidants deep into the skin cells. Kakadu Brightening Serum is our lightweight, hydrating oil-free serum that packs an intense vitamin C punch, as well as a boost of hydration. We recommend using both serums together (Kakadu Brightening Serum first and then Restore Serum) as they have different benefits and will replenish both your moisture AND oil levels.
Why do I need to use a serum?
Serums are an essential step for optimal skin health and achieving maximum results. Serums contain the highest levels of active and super-concentrated nutrients that deliver the ultimate boost of intensive moisture, vitamins and antioxidants to target your skin concerns while minimising the signs of ageing. Serums are also perfect for replenishing our skin's natural oils and moisture levels that deplete with age.
Is this product safe when pregnant & breastfeeding?
Yes! In fact, our entire range is loved by pregnant and breastfeeding women. However, if you do have any concerns, we suggest consulting further with your medical professional as every individual is unique.
When do I apply my Restore Serum?
We recommend applying Restore Serum daily, in either AM + PM or just PM. You may also reapply throughout the day if your skin craves more. Visit our layering guide to see when, how often and in which order to apply all your product/s.
Bioactive ingredients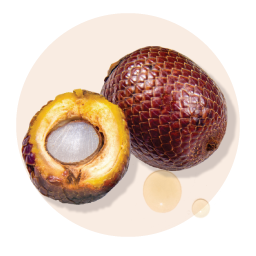 Amazonian Buriti fruit
Proven to reduce age-inducing oxidative stress & accelerate skin cell turnover.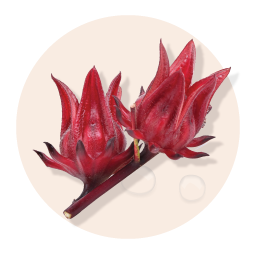 Wild Rosella Flower
Potent anti-inflammatory, and anti-aging properties to support rapid skin rejuvenation.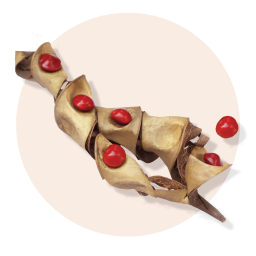 Native Sandalwood Seed
Diminishes fine lines and wrinkles while deeply conditioning & boosting skin.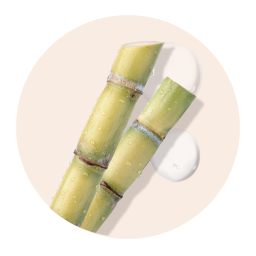 Plant-Derived Squalane
Super-hydrator to increase skin elasticity & suppleness and reduce redness.
Full ingredients list
Macadamia integrifolia (Macadamia) Nut Oil, Argania spinosa (Argan) Oil, Simmondsia chinensis (Jojoba) Seed Oil, Persea gratissima (Avocado) Oil, Rosa eglanteria (Rosehip) Oil, C13-15 Alkane (Plant-derived Squalane), Mauritia flexuosa (Buriti) Fruit Oil, Hippophae rhamnoides (Seabuckthorn) Oil, Salvia hispanica (Chia) Seed Oil, Tocopherol (Vitamin E), Camellia oleifera (Camellia) Seed Oil, Cannabis sativa (Hemp) Seed Oil, Fusanus spicatus (Sandalwood) Kernel Oil, Hibiscus scanderns (Rosella Flower) Oil, Helianthus annuus (Sunflower) Seed Oil, Terminalia ferdinandiana (Kakadu Plum) Seed Oil, Santalum album (Sandalwood) Oil, Aniba rosaedora (Rosewood) Oil, Rosa damascena (Rose) Oil, Lavandula officinalis (Lavender) Oil, Pogostemon Cablin (Patchouli) Oil. Naturally occurring in essential oils: Farnesol, Geraniol, Benzyl Alcohol, d-Limonene, Linalool, Citral.
Clinically proven
% of participants noticed*
96%
noticed their skin appeared more youthful
91%
noticed improvement in skin elasticity & firmness
96%
noticed an improvement in skin hydration
83%
noticed an improvement in the appearance of fine lines and wrinkles
Phytoactives

A phyto-active is the active nutrient within the plant. It is essentially the molecular "gold" in an ingredient, delivering an abundance of plant-powered skin regenerating benefits.
Chlorogenic Acid (CGA)
Targets wrinkles, maintains skin f...
Targets wrinkles, maintains skin firmness & flexibility, alleviates irritation & redness.
Xymenynic acid
Diminishes fine lines, improves sk...
Diminishes fine lines, improves skin tone & dermal strength, improves skin circulation and conditions skin.
Phenolics
Replace & detoxifies dead cells to...
Replace & detoxifies dead cells to reverse signs of aging, stimulates collagen and elastin production.
Beta-carotene (Pro vitamin A)
Fights free radicals that cause sk...
Fights free radicals that cause skin aging, evens skin tone and boosts skin cell renewal.
Anthocyanins
Powerful antioxidant qualities to ...
Powerful antioxidant qualities to improve skin lifecycle, function and quality.
Flavone Glycoside
Potent anti-inflammatory effects, ...
Potent anti-inflammatory effects, reduces fine lines and wrinkles & intensifies resistance to oxidation.
Extraction process
We harness a unique extraction process where plant molecules are extracted in a way that mimics the natural biomatrix of the cell, this maintains the whole entourage of phyto-actives, in their synergistic relationships as they exist in nature. As a result of this process the ingredients are delivered in a stable, active & potent form.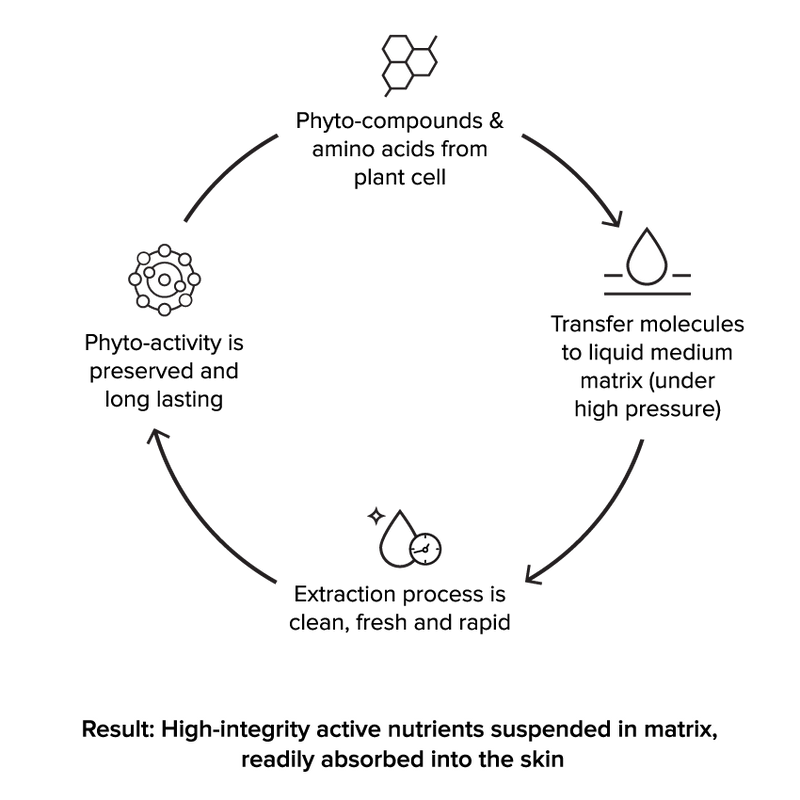 WHEN TO USE

VIEW MORE
View full skincare layering guide here.
Global award winner

View awards
Best Serum (Age 40+) - Beauty Shortlist Awards 2022
Best Treatment Oil (Silver) - Organic Beauty Awards 2021
Best Natural / Organic Skincare Product (Face) - Beauty Shortlist Mama & Beauty Awards 2020
Best Serum (Age 40+) - Beauty Shortlist Awards 2020
Best Oil-Based Serum - Clean + Conscious Awards 2021
Editor's Choice - Beauty Shortlist Awards 2021
"No wonder this serum has won so many awards. Friends comment on my skin clarity and firmness, asking what am I doing?"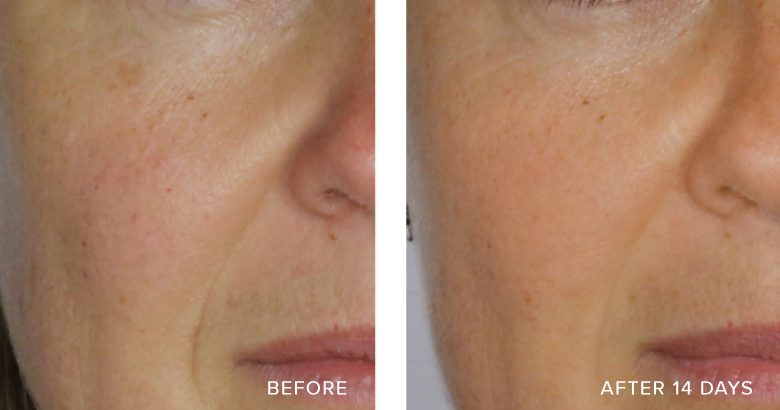 how to use

the ritual
Embrace the restorative calm of a morning and evening beauty ritual, as you gently massage 3 powerful drops of Restore Serum into the face, neck and decolletage.
See layering guide
As seen in
"Tone down fine lines and restore radiance with this omega rich serum."
"Revealed as Olivia's number one product from the label, the Restore Serum boasts a unique formula."
"Combining pure ingredients with high-tech science, this is a results-driven line. Retreatment Botanics has taken a step further by removing palm oil from their ingredients list."
"With efficacy at the heart of the brand, they harness the power of native botanicals, which are among the hardiest plants on the planet. And they work wonders for our skin."
Worth the price
This is a light and beautifully weighted oil with a clean and subtle fragrance. Hands down the best facial oil I've used.
Really loving the feel of this on my skin.
Beautiful serum
I have been using this serum for about a week and have already noticed my skin is soft and hydrated. Beautiful product, would highly recommend.
Great scent!
Smells great and leaves my skin soft. The best product I have used.
Old age skincare
Since using Retreatment Botanic skin care, I have the feeling that my really old skin (87) is smiling.
At night I use Radiance cream cleanser, Ageless AHA Glow Concentrate, Restore Serum and firming eye contour creme;
In the morning: Cleansing with Radiance Cream Cleanser, Ageless AHA Glow Concentrate (very refreshing), kakadu brightening serum, firming eye contour creme and light hydrating moisturiser.
With the Ageless AHA Glow Concentrate and the Kakadu serum, I have the feeling that vitamin C is dancing over and in my skin, fresh and sparkling
A happy customer; Thank you!
supercharge your skin ritual
*Results obtained following an independent consumer self-assessment study of 22 women using the product twice daily for 14 days.